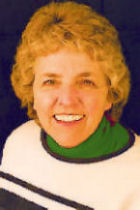 Maybe a year ago I found a BYU Women's Conference talk online by
Mary Ellen Edmunds,
a nurse who has completed four missions and has been on the Relief Society General Board . I immediately liked her because she is so joyful and funny with an infectious laugh, but her talks are also insightful and profound. She is now one of my favorite speakers. You can find some of her talks
HERE
and watch, listen or read them (depending on the file). You have to put "Edmunds" in the search box. (It's a great resource for hours of great listening to talks by many people.) Edmunds has also written some books and has some talks on CD.
I am reading a book called
Prayer
that is a collection of writings from different church leaders and authors. I just started reading Mary Ellen Edmunds' "Prayer, the Soul's Sincere Desire" and I haven't finished it yet. (There is a talk on the link above that has the same title and has some of the same parts, but isn't identical to the one in the book I'm reading.)
I didn't yet finish this part of the book because I ran out of reading time, but I keep thinking about this quote from it.
"As a little kid I would sit in sacrament meeting and hear really old people—that kind that can hardly make it up to the front—bear their testimonies. They would say, 'I just love the scriptures.' And I'd think, 'You big liar. You don't really. You're just saying that because you're old and you're about to die and you figure you'd better say that so you can go to heaven.' I thought that because I didn't yet love them. I didn't yet know enough about what was in the scriptures."
Besides being funny because most of us have been there (or are still there with some principles), it helps remind me of the perspective that others have—my children, the youth in my Sunday School class, investigators. And not just about the scriptures, but about every topic.
A young woman in my Sunday School class once mentioned to me that when I bear my testimony, even if I'm crying (remember the annoying crybaby thing?) that she doesn't feel anything. Not the spirit, not that it is true, nothing. Of course, I told her that it was okay and normal. We all grow little by little and she can just keep learning and praying and she shouldn't feel bad. I remind my class all the time that just because their parents are members and they were born in the church, doesn't mean they were born with a testimony and that they need to go through the same steps as the investigators when trying to decide if something is true.
I teach my children about the gospel, but I'm not sure that I'm providing enough opportunities for them to build their own testimonies and find out for themselves if each principle is true. It is important to share our testimonies with them and to teach them correct principles, but we need to help them have their own experiences with the Spirit and discovery. I'll be brainstorming for some new ideas for my children and to use in my Sunday School class, which seems much harder for me.
Okay, to end on a light note, I'll include this quote from Mary Ellen Edmunds that wasn't in this reading, but I've heard her say it a few times:
She is the author of the 14th Article of Faith:
"We believe in meetings - all that have been scheduled, all that are now scheduled, and we believe that there will yet be scheduled many great and important meetings. We have endured many meetings and hope to be able to endure all meetings. Indeed we may say that if there is a meeting, or anything that resembles a meeting, or anything that we might possibly turn into a meeting, we seek after these things."