I have been so busy that I haven't been able to post as much recenty as I'd like. Then two of my children and I got a bad cough from a virus. I have been working on a special post, but I don't know enough about Blogger to get it to come out right yet. Soooo I wanted to share a couple of quotes with you. After wanting to read
Broken Things to Mend
for so long, I finally got it from the library and just started reading it. I didn't realize that it was a compilation of Elder Holland's talks from various years. Most of them are General Conference addresses, but some are talks at universities or conferences.
The first chapter is his General Conference address from April 2006 called "Broken Things to Mend". You will probably remember him reading this poem. I just think it's such a beautiful poem with a message that we can all relate to and understand.
"If you are lonely, please know you can find comfort. If you are discouraged, please know you can find hope. If you are poor in spirit, please know you can be strengthened. If you feel you are broken, please know you can be mended."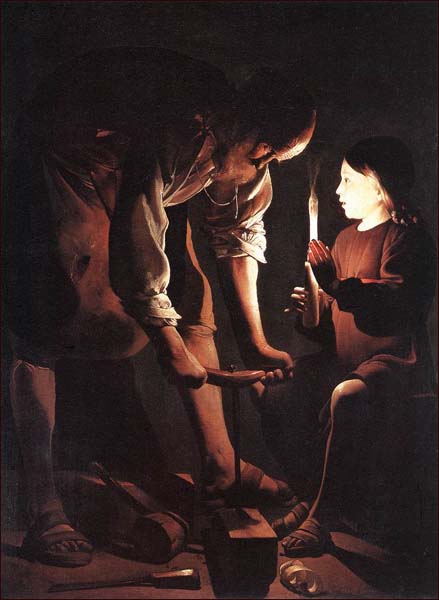 In Nazareth, the narrow road,
That tires the feet and steals the breath,
Passes the place where once abode
The Carpenter of Nazareth.

And up and down the dusty way
The village folk would often wend;
And on the bench, beside Him, lay
Their broken things for Him to mend.

The maiden with the doll she broke,
The woman with the broken chair,
The man with broken plough, or yoke,
Said, "Can you mend it, Carpenter?"

And each received the thing he sought,
In yoke, or plough, or chair, or doll;
The broken thing which each had brought
Returned again a perfect whole.

So, up the hill the long years through,
With heavy step and wistful eye,
The burdened souls their way pursue,
Uttering each the plaintive cry:

"O Carpenter of Nazareth,
This heart, that's broken past repair,
This life, that's shattered nigh to death,
Oh, can You mend them, Carpenter?"

And by His kind and ready hand,
His own sweet life is woven through
Our broken lives, until they stand
A New Creation—"all things new."

"The shattered [substance] of [the] heart,
Desire, ambition, hope, and faith,
Mould Thou into the perfect part,
O, Carpenter of Nazareth!"
George Blair
, "The Carpenter of Nazareth," in Obert C. Tanner, Christ's Ideals for Living (Sunday School manual, 1955), 22.
The second quote that I'd like to share is from Chapter 2, "A Prayer for the Chidren", Elder Holland's April 2003 General Conference talk.
"Carl Sandburg once said, 'A baby is God's opinion that life should go on.' For that baby's future as well as your own, be strong. Be believing. Keep loving and keep testifying. Keep praying. Those prayers will be heard and answered in the most unexpected hour. God will send aid to no one more readily than He will send it to a child—and to the parent of a child."
I know a few friends who are having different struggles with their children and this made me think of them. It is so true that Heavenly Father loves the children so much (even the teenagers) that He will try to touch the hearts of that child who is in need as well as those around him or her to come to the child's aid. We have the right to such special blessings as parents. I'm very grateful for that since raising children is not easy, no matter how much you love your dear ones.
I'm sure I will find a lot more inspiration from this book and I already have pondered about the cover and will share my thoughts with you about that some time soon.